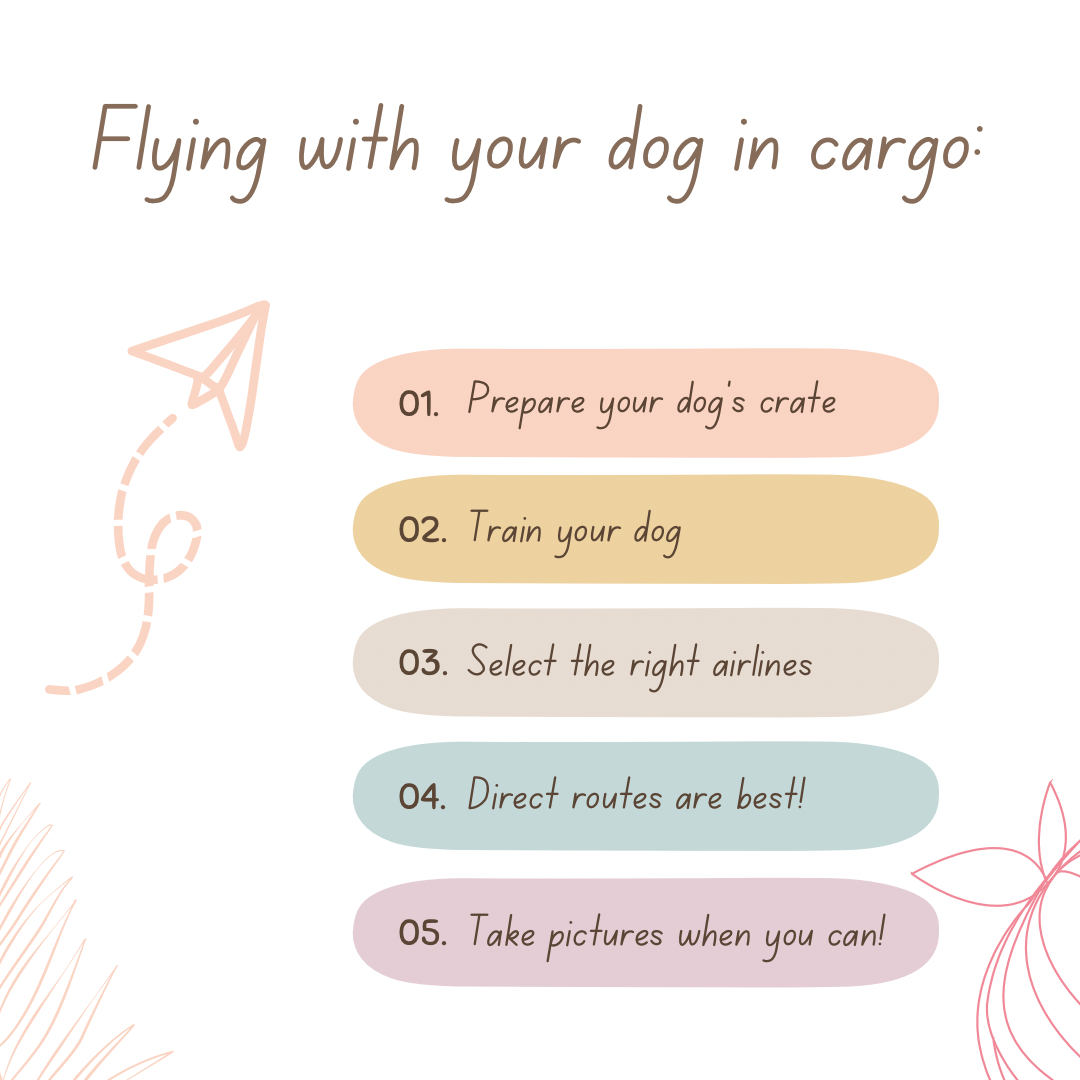 We recently flew to be with family and wanted to take our dog with us. However, our dog fell slightly above the size limit to fly in cabin and our only option was to fly her in cargo. As many of you might have heard on the news or read it on forums, flying your dog can be a scary experience. We too had read horror stories about people losing their pets or airport staff mishandling the animals and we wanted to be sure that it was safe for our fur-baby to fly in cargo. Since we couldn't find a recent dog owner's experience flying their pet in cargo, we thought we should to share our experience with you all. Read on to learn about the tips and tricks that worked for us and our pup:
Ensure you have the right crate: Your dog will not only be inside his/her crate for the entirety of the flight but also from security. All airlines that fly pets have specifications on their website along with guidelines. The one thing we missed (and don't want you to miss) is ensuring that the travel crate is bolted on all four sides. This is to ensure that if there is turbulence on the flight, the crate doesn't open up or break.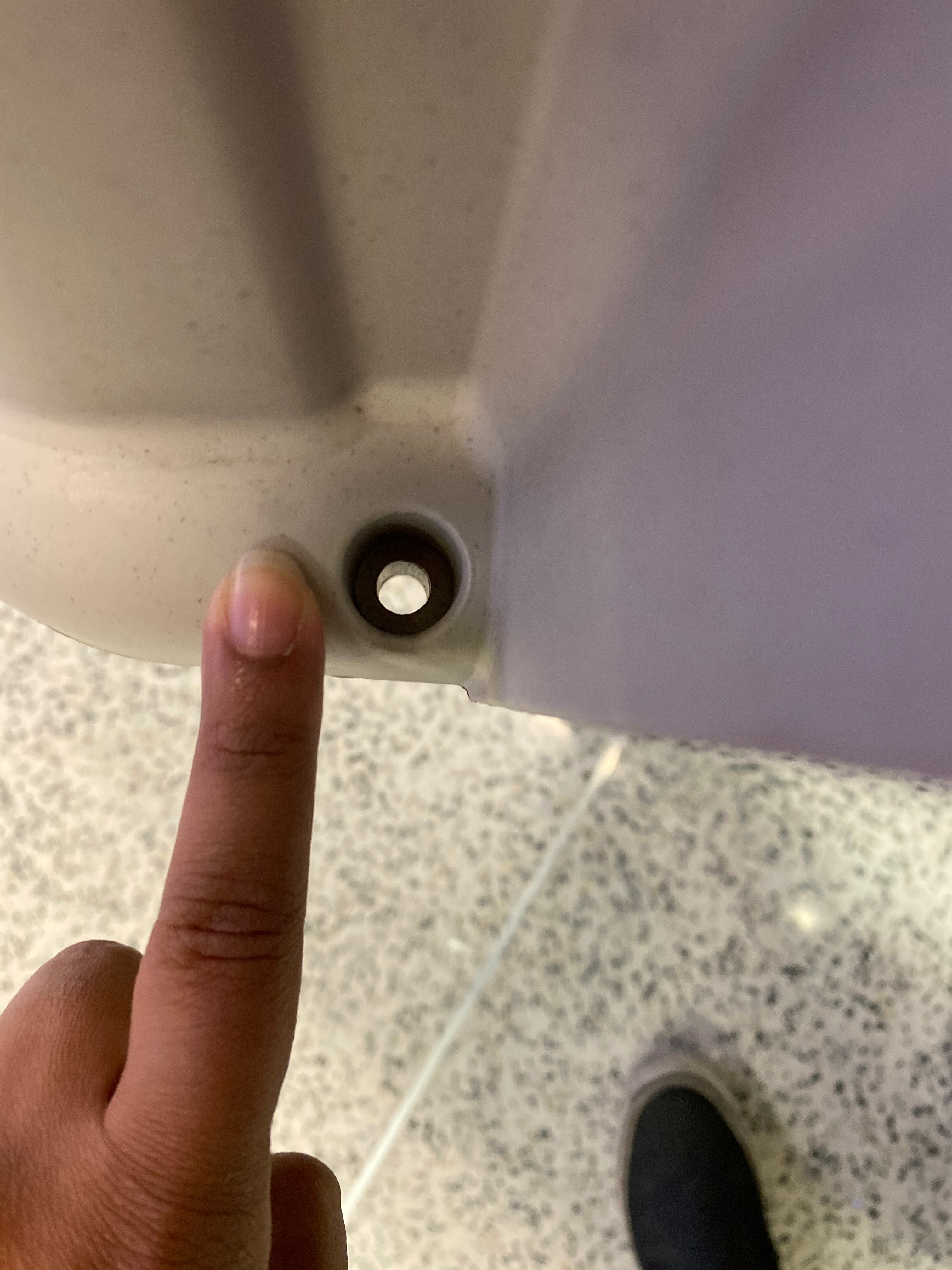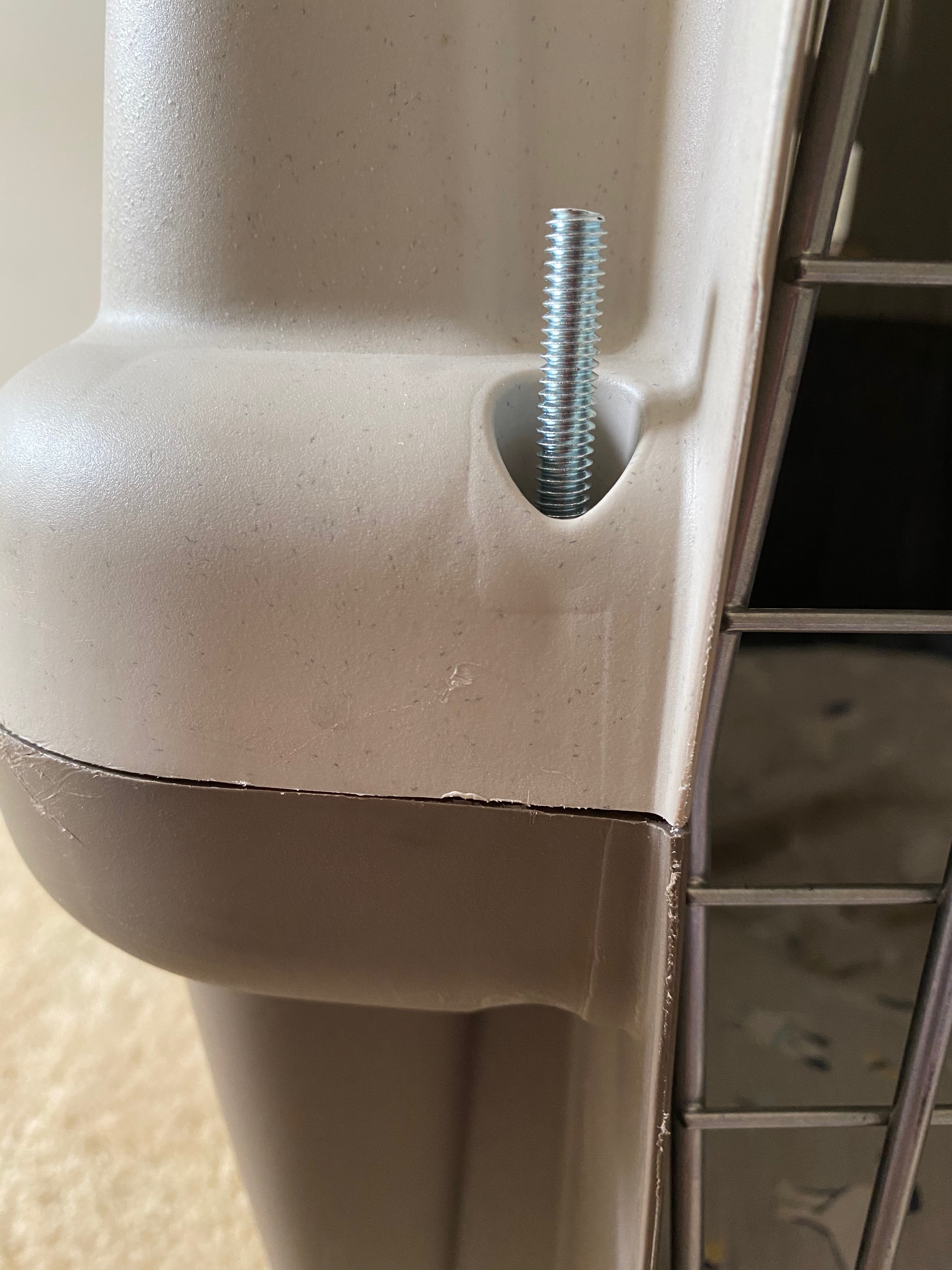 Make sure the crate is big enough for your dog to stand comfortably and turn around. We added some padding along with an old shirt that smelled like us for her comfort.
We loved the Skudo crate as you can get detachable wheels to move the crate around the airport and take off before security. The crate also has two compartments on top where you can keep a bag of food just in case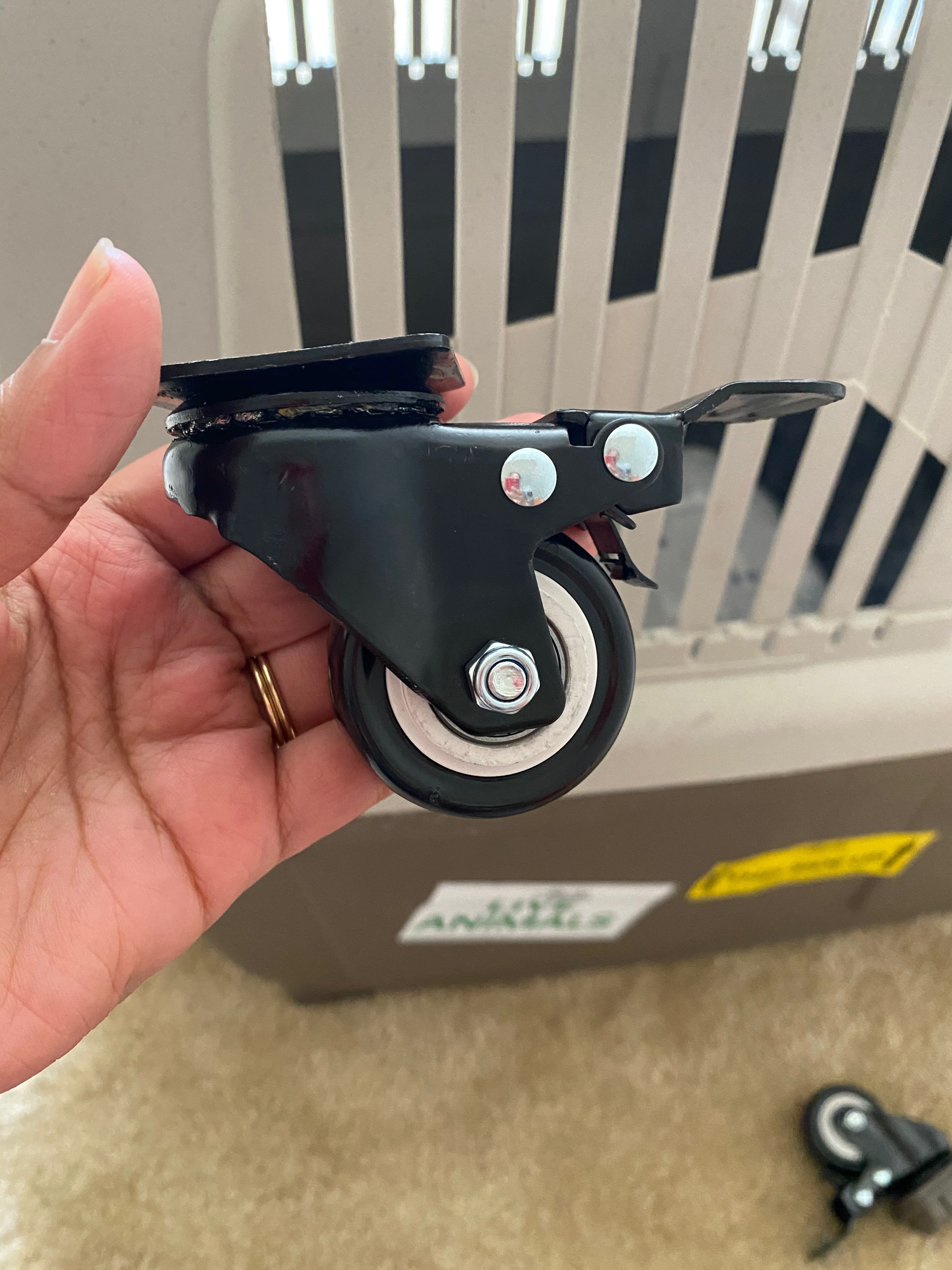 We ensured that info about our dog was pasted on the crate; info on her name, size, breed type, and contact info. While we hope this never happens to your pet, this could be a life-saver in case your pet is transported in a separate plane and is lost in transit.
Most airlines also have a rule to attach a water bowl with a spout on the outside should your dog need water. See picture attached!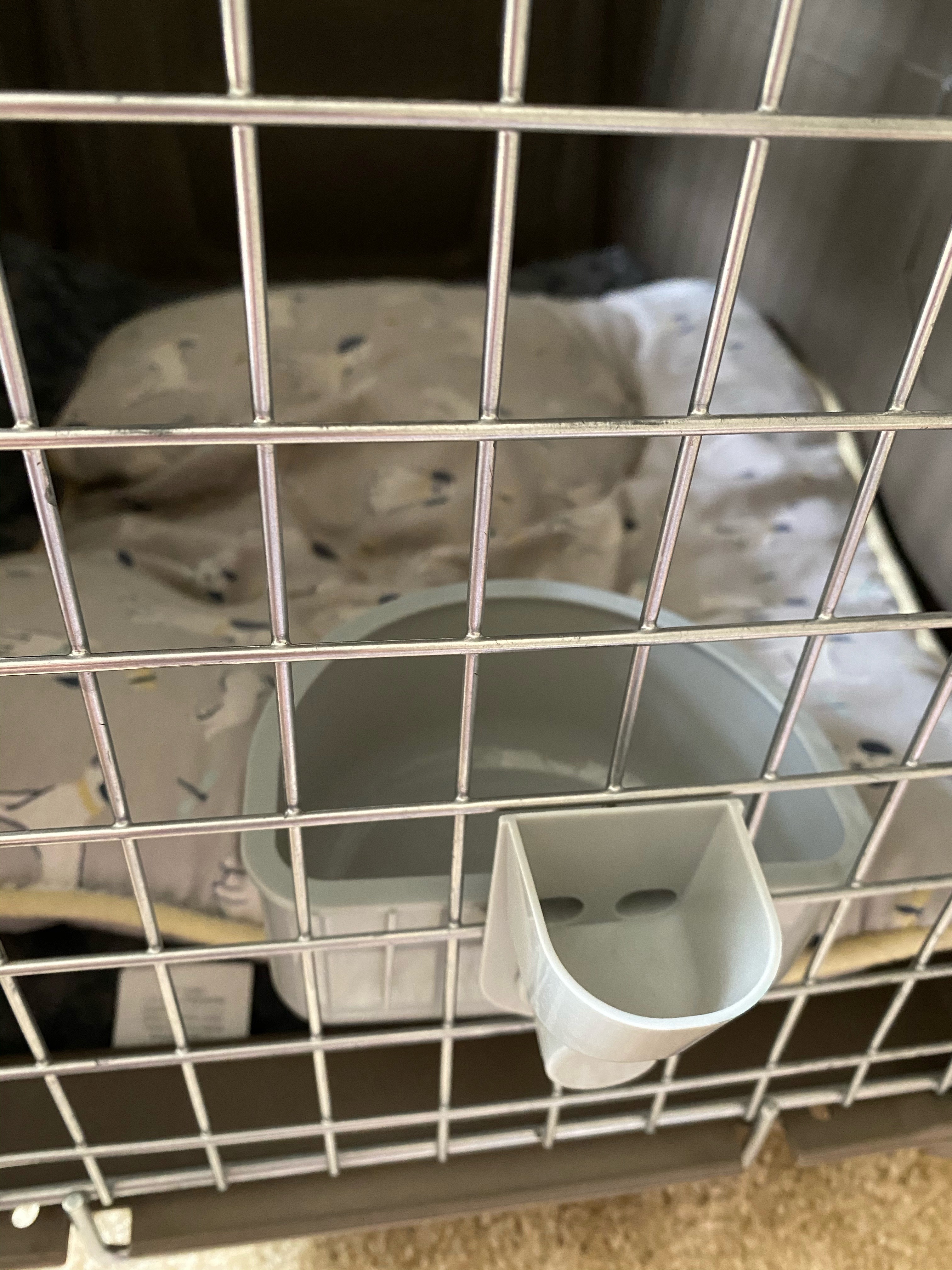 Training your dog to love the crate: We spent the months leading up training our dog to love her crate. This involved a LOT of treats, play time in and around the crate, and making sure she was comfortable with it. We would have our dog sleep in the crate every night and had enforced naps during the day in it as well. By the time our travel date came up, she had no problems going into crate and sitting in it comfortably.
Just to ensure she was even more prepared for the flight, we tried out CBD oil and melatonin treat a week or two prior to travel date to see how she reacted to it. We found them to be very helpful - she was very relaxed and calm at the airport and while security checked the crate. Check with your vet first, but we highly recommend them if your dog doesn't have any side affects. Slide to see pictures of the products!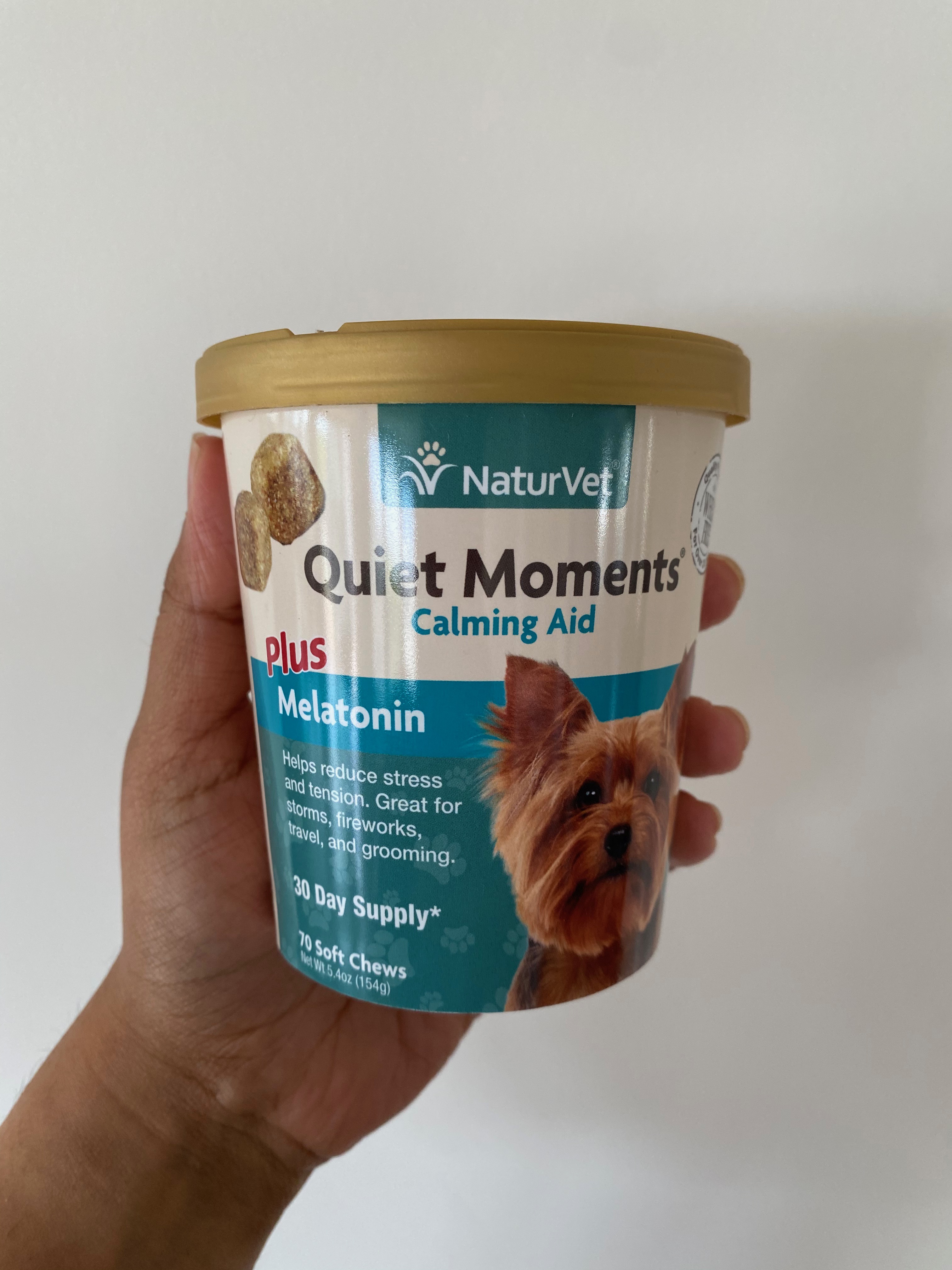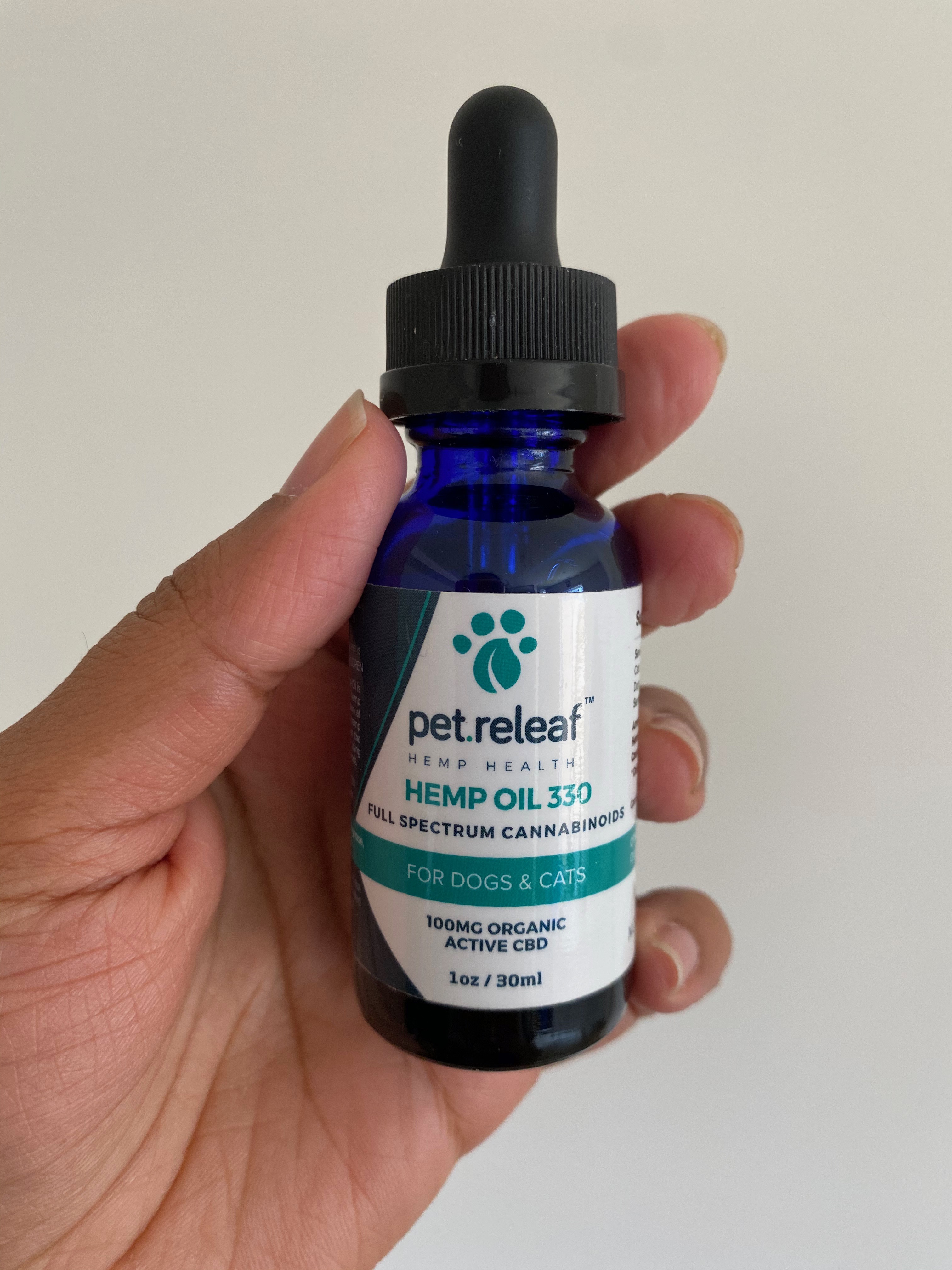 Select the right airlines: We spent a lot of time researching the right airline for our pup. We wanted an airline that had low dog-related incidents and a good customer service. We selected Alaska Airlines because we had a good experience with them when we went to go pick up our pup from the breeder. At that time, she fit under the seat and the agents and flight attendants were so wonderful. Even this time around, Alaska Airlines was very thorough and detailed with our pup. We wanted to make sure she was on the same flight as us and they ensured that. We paid a $100 one-way pet fee to Alaska which we found to be very reasonable.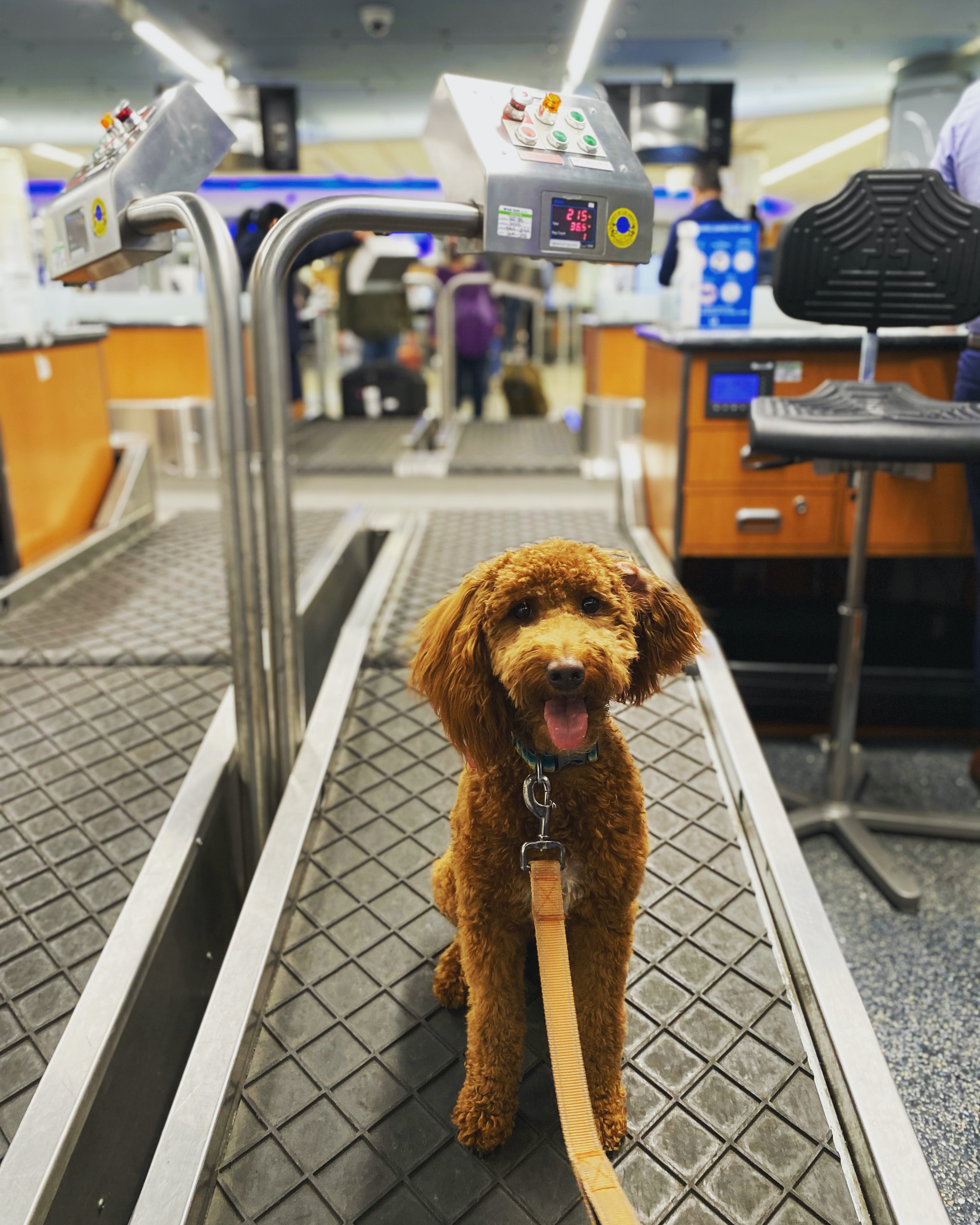 Direct Routes: Speaking of airlines, we selected a direct route to our destination. Check out the airlines' rules for layovers, but I believe if the layover is less that 2 hrs, you won't be able to see your pet. But if it is longer, you are required to come out and get your pet to feed them before the next leg of your flight. We were fortunate to find a direct flight within our budget and didn't want to cause more distress to our pet with a layover.
Finally, note that almost all airlines require a health certificate from a veterinarian 10 days prior to travel date. We had the health certificate done at Vet n' Care by Petco since our usual veterinarian was booked.

Take pictures: We took pictures of everything! From our pup next to the crate, inside the crate, with the water bowl, the nuts and bolts, the health certificate, the luggage scan tag, the documents from the agent, etc. You get the idea. Document everything you can on the trip in case you run into an issue.
Our full experience
The only reason we know this is because we flew our pup in cargo and ran into a couple hiccups ourselves. We learnt the rules the hard way so that you don't have to! Couple of notes from our experience:
We should have checked our crate carefully because we had zip-tied the four corners of our crate instead of nut-and-bolt like Alaska Airlines website asked for. So when we got to the airport, we were turned away and had to be rebooked on the next flight. In the meantime, we went to Home Depot to get the right size nut and bolt for the crate. The next day, we got to the airport and checked in at the Alaska Airlines counter.

You don't have to put your pet in the crate until you go through the security section, so we made sure we took our dog for her last potty break before we checked-in.

At check in, they will ask for the health certificate and paste a document on the crate. This document has a tear-off bit which will be handed to you after your pup has been put into cargo hold. After we checked-in, there is a separate security section for pets. Here, they check the crate and make you zip-tie to doors shut for extra safety. And off she went!

We then separately went through regular security. When we boarded the flight, we let our flight attendant know that we were traveling with a pet and she already had all our info on her tablet. Once our pet was loaded into cargo, we got that tear-off bit from the document on her crate. This definitely calmed our nerves since we knew she was on the same flight as us.

When we landed, we immediately went to the Alaska baggage claim area. Within 20 minutes, an agent brought our dog to us. She looked like she had just woken up from a nap! She was happy to see us and we took her for a potty break right away. Overall, we had a smooth trip with Alaska Airlines and highly recommend them for other pet owners as well.
We hope this has been helpful for you! Have a safe trip with your fur-iend :)